Zone in to Quality...Plus!
The QP Zone is more than just a phrase. And Quality Plus is more than our name. They're our promise to you. We promise that every service call we respond to, every system we install and every maintenance check we complete will be performed to the highest standards. You'll get Quality Plus service - everytime. Guaranteed. And if you're in the QP Zone, you can count on that service - Fast. Guaranteed.
Our Promise to You
A Quality Plus job every time.
Our Goal
Complete customer satisfaction
Quality Assurance Inspections
Our Quality Assurance Inspectors perform Inspections to ensure a Quality Plus job every time.
In 1997, Quality Plus began as a small one-man operation. Over the years, Quality Plus has evolved into a full-service heating and air conditioning company. With four installation crews, multiple service crews, two Quality Assurance Inspectors and a full-time dispatcher, Quality Plus is equipped to handle your service needs as they arise while completing scheduled installations and maintenance checks.
Midlands Owned and Operated
Since we are Midlands owned and operated, it only makes sense that the center of the Midlands is our primary service area. If you're located in Richland or Lexington County, then you're in the QP Zone and can expect nothing less than Quality...Plus!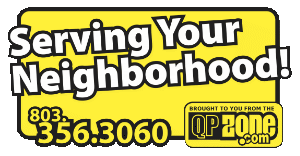 Testimonials
"As a homebuilder, having reliable subcontractors is critical to the successful completion of a new home. As important as reliability is in the custom home building business, it is equally important to have quality workmanship with great attention to detail. I have been in the custom residential homebuilding business for more than thirteen years and I have been fortunate to discover Quality Plus Heating and Air. From the time I began A to Z Construction, Quality Plus Heating & Air has been there for my customers and me providing excellent service and quality workmanship. As problems have arisen in the past Quality Plus has quickly responded to both my customers' needs and mine. I work with many vendors and subcontractors and by far Quality Plus Heating & Air is one of the best companies I use. If you were thinking of using Quality Plus Heating and Air, I would highly recommend you do so. You won't be disappointed."
Bill Wichlei, A to Z Construction
---
"Quality Plus has been providing service to my company since 1998. Jerry is a very conscientious and honest person. I like the fact that the business is large enough to get the job done, but small enough that I can reach the owner anytime, seven days a week. Jerry believes and stands behind his product 100%."
Mielke, Mielke Builders, Inc.
---
"After our AC went out Quality Plus was recommended to us by an employee at Lowe's. We called Jerry and he gave us a time he would be able to come look at it. He arrived on time, fixed the issue and the price was way more affordable than I was expecting. I would definitely recommend them to anyone!"
Autumn Tucker, Google Review
---
"Quality Plus Heating & AC have been our service providers for over 20 years. We've always had prompt and efficient service whether it was a scheduled maintenance or an emergency outage. Recently we had a completely new system installed in our home. The recommended system they installed has been heaven sent. Robbie and Will were so easy to work with. The left our home with their work areas so spotless it was hard to tell they had been there working most of the day. With us having 4 seasons in a single week we are still always comfortable. We look forward to doing business with QP for years to come!! Thank you to the staff for always being so friendly and professional!'
Deanna Kilgore, Google Review
---